What we do?
We trade and manufacture chemicals.
M.S.Asia Enterprise Sdn. Bhd. was incorporated in June 2001 as an importer and trader of phosphoric acid and its related downstream products. Our company was the first to bring in the low-cost and high quality of 85% concentration food-grade phosphoric acid into Malaysian edible oil refineries from P.R.China.These products we carry have been used and proven reliable for more than six years in the edible oil industries. The low-cost and quality products we bring in from China have helped to reduce the production costs of the refineries and the local markets. The food-grade phosphoric acid supplied by us is also ISO9001, HALAL and KOSHER certified. The shareholders of the Company, jointly partnered with our phosphoric acid producer in P.R. China to form M.S.Asia Phosph-Chemicals Sdn Bhd in December 2002 to produce phosphoric acid locally. Through this collaboration, we can further improve the cost of production whilst maintaining the quality of the phosphoric acid through the transfer of the processing techniques and acquiring the precision machinery and its downstream manufacturing lines from P.R. China partner.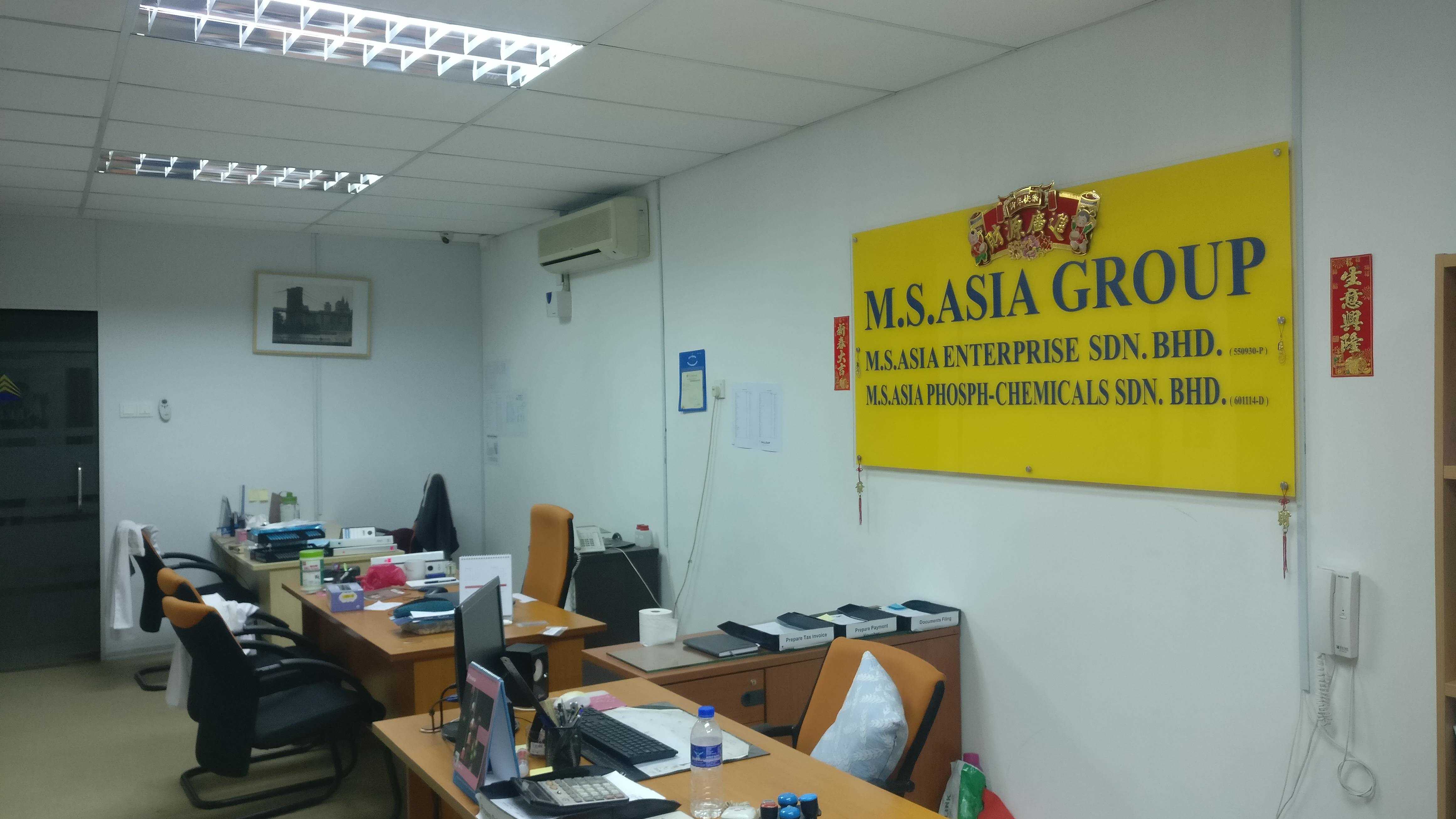 01.

Our Mission

1. To provide good consistency quality products with reasonable prices to users. In return, users will able to bring down their production costs.

2. To fulfill the requirement of stocks for our clients locally and abroad.
02.

Our Vision

"To produce the best, alternative product to every industry."
03.

Quality Policy

M. S. Asia Group of companies aims to be the well-known provider of chemical additive for the food industry locally and in other countries as its strategic direction to meet the market needs and expectation. To supports the Company's strategic direction, our team is committed to providing our products and services to our customers with high efficiency, effective and consistently strive to achieve the on-time delivery and provide reliable products. We are also committed to satisfying applicable requirements including applicable legal requirements, customer requirements, quality management system requirements and other requirements of other interested parties within the context of the Quality Management System. Our management is committed to continuously improve the Quality Management System and its products and services from time to time. To achieve the intended outcomes of the Quality Management System, we shall and continually strive to determine external and internal issues (negative and positive) that are relevant for our organization and interested parties and initiate timely actions to address the risk and opportunities associated with these issues. We believe these are the keys to consistently fulfill our customer requirements and expectation and enhancing our customer satisfaction, and at the same time maximizing the values, needs, and expectations of all other stakeholders including our suppliers and subcontractors, shareholders, employees, and relevant authorities.